Get ready to tantalize your taste buds with the ultimate comfort food: Irish Guinness Stew. In our latest blog post, we reveal the secret to crafting a steaming pot of pure delight. Warm your heart and home with this inviting recipe – it's more than just a meal; it's a celebration of cozy, nourishing flavors. Join us in savoring the magic of Irish culinary tradition!
Ingredients:
600g beef stew meat, cut into bite-sized pieces
2 tablespoons vegetable oil
2 medium onions, finely chopped
3 cloves garlic, minced
3 carrots, peeled and sliced into rounds
2 celery stalks, sliced
3 potatoes, peeled and cubed
2 tablespoons all-purpose flour
2 tablespoons tomato paste
500ml Guinness Stout (or any stout beer)
500ml beef broth
2 bay leaves
2 sprigs fresh thyme
Salt and pepper to taste
Chopped fresh parsley for garnish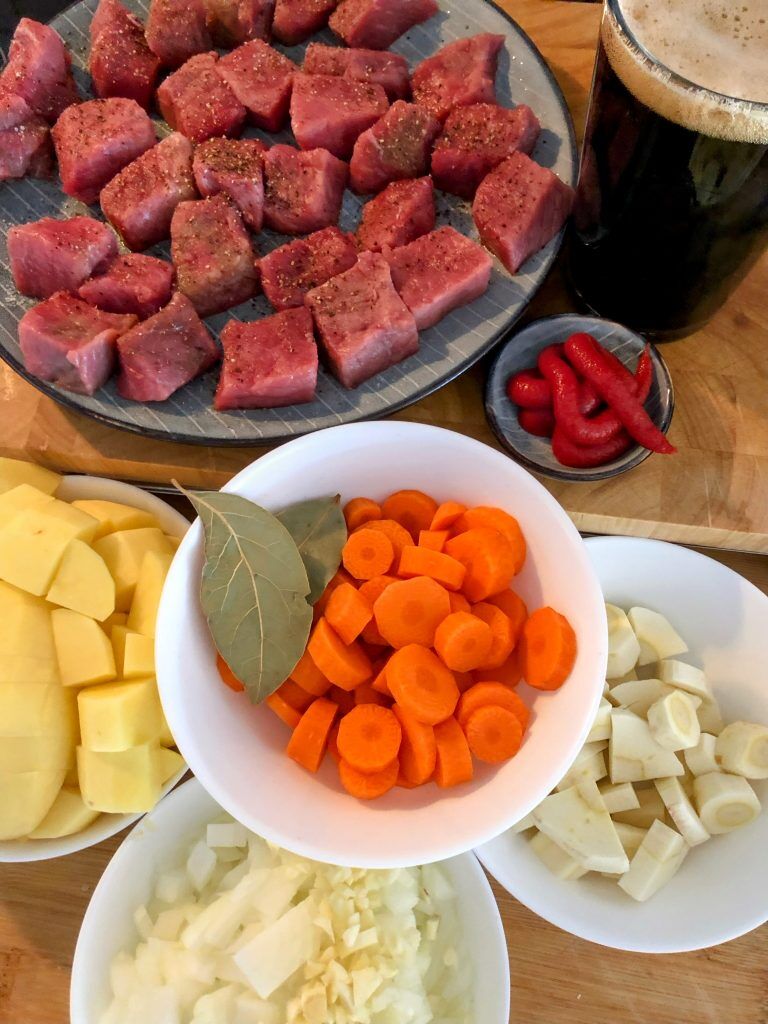 Instructions:
In a large pot or Dutch oven, heat the vegetable oil over medium-high heat. Add the beef pieces and brown them on all sides. You may need to do this in batches to avoid overcrowding the pot. Remove the browned beef and set it aside.
In the same pot, add the chopped onions and garlic. Sauté for a few minutes until they become translucent.
Sprinkle the flour over the onions and garlic and stir well to coat. Cook for another 2 minutes to eliminate the raw flour taste.
Return the browned beef to the pot, and add the carrots, celery, and potatoes. Stir everything together.
Pour in the Guinness Stout and beef broth, making sure to deglaze the bottom of the pot by scraping up any browned bits. This adds flavor to the stew.
Stir in the tomato paste.
Toss in the bay leaves and thyme sprigs. Season with salt and pepper to taste. Be cautious with the salt, as the beef broth can be quite salty.
Bring the mixture to a boil, then reduce the heat to low. Cover the pot and let it simmer for about 2.5 hours, or until the meat is tender and the flavors meld together. Stir occasionally.
After the stew has simmered, taste and adjust the seasoning if necessary. Remove the bay leaves and thyme sprigs.
Serve the Irish Guinness stew hot, garnished with chopped fresh parsley. You can enjoy it with some crusty bread or mashed potatoes.
This hearty and flavorful Irish Guinness Stew is perfect for a cozy dinner, especially on cold days. Enjoy!